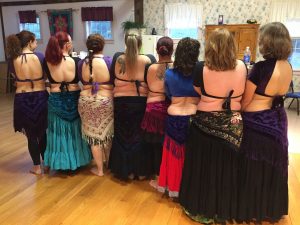 Classes are held on Thursdays at the Bennington Senior Center, 124 Pleasant Street, Bennington, VT 05201.
Level 1 class runs 5:15-6:10pm
Level 2 class runs 6:15-6:45pm
Student troupe rehearsal runs 6:45-7:15pm
Dues for Level 1 classes are $30/month or $8/class.
Dues for Level 1 + Level 2 are $40/month or $13/night.
Level 1 is a repeating 6-week cycle. Level 2 is a repeating 12-week cycle. Students are welcome to stay for Level 2 classes after completing at least one cycle of Level 1 classes. Continued attendance at Level 1 is a prerequisite for Level 2.
The first Level 1 class for new students is free, so stop by and check us out! Wear comfortable clothes to stretch and dance in.
Questions? Email us at info@benningtonbeledi.com.
Here are some helpful links for new and experienced students:
FatChanceBellyDance – Aka "The Mothership"
Flying Skirts – Great resource for ATS costuming
Moondance – All types of bellydance costuming
Saroyan Cymbals – High quality zils
Shira.net – All things bellydance!